Hair salons
Hair Salon & Barbering Industry by The Numbers: Stats & Trends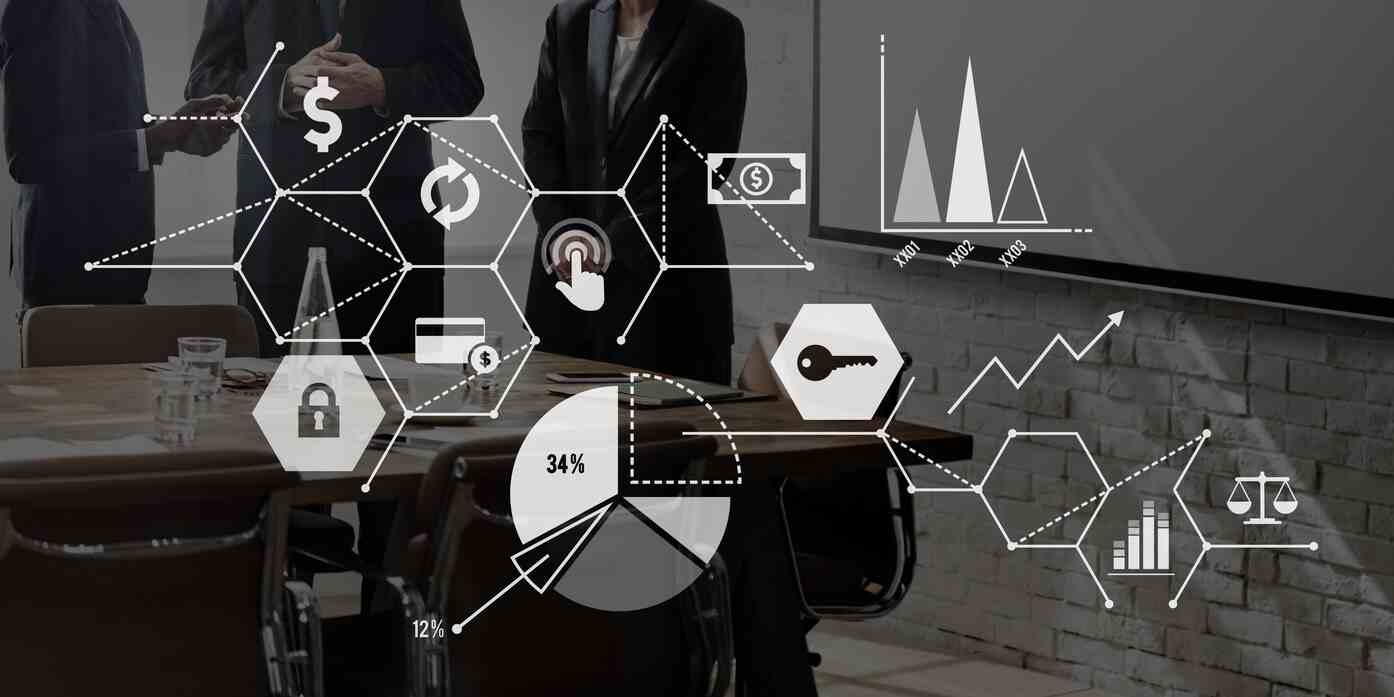 If you've ever dreamed of working in the hair salon and beauty industry, there has never been a better time to get involved!
The haircare field is on the rise and demand for qualified professionals is increasing. From innovative cuts and vibrant color trends to futuristic technology—a haircut isn't just about snipping away split ends anymore—it's an experience.
We all know how important is to understand the current state of the industry and popular trends to build a profitable beauty business.
We take an in-depth look into the hair salon industry by exploring key statistics and emerging trends:
Entrepreneurs looking to make their mark in the beauty community can benefit greatly from understanding the numbers behind the trends currently dominating this market.
Everything you need to prepare for success is right here.
What Business Industry is Hair Salon?
What Is a Service Industry?
The service industry is a sector of the economy that provides services instead of producing tangible goods.
It focuses on providing customer services, such as advice, assistance, and experience, such as healthcare, hospitality, finance, retail, education, consulting, and more.
What sector of the economy are hair salons?
Tertiary Sector: This industry includes salons that primarily offer hair-care services such as haircutting, hair coloring, and hairstyling. Additionally, these companies may provide facials and makeup applications (except permanent makeup) and retail beauty products.
This industry does not include operators that primarily offer training in barbering or hairstyling.
The Industry Primary Activities
Haircutting
Permanently modifying hair texture
Providing hairstyling services
Providing temporary makeup services
Providing facials and skin care services
Major Products and Services Segmentation
Haircutting and styling services (55.2%)
Hair coloring services (20.7%)
Other services (5.6%)
Resale of merchandise and cosmetic products (14.3%)
Skincare services (4.2%)

Source: IBISWorld
Hair Salons SWOT Analysis
A SWOT (Strengths, Weaknesses, Opportunities, Threats) analysis is a strategic planning tool that can be used to assess a hair salon's business. The analysis can help identify the internal and external factors that impact the salon's success.
The Strengths
Low Customer Class Concentration
Low Capital Requirements
Low Imports
The Weaknesses
None & Steady Level of Assistance
High Competition
High Volatility
Low Profit vs. Sector Average
High Product/Service Concentration
Low & Steady Barriers to Entry
The Opportunities
High Revenue Growth (2022-2027)
Unemployment rate
The Threats
Low Revenue Growth (2005-2022)
Low Revenue Growth (2017-2022)
Low Outlier Growth
Low-Performance Drivers
Per capita disposable income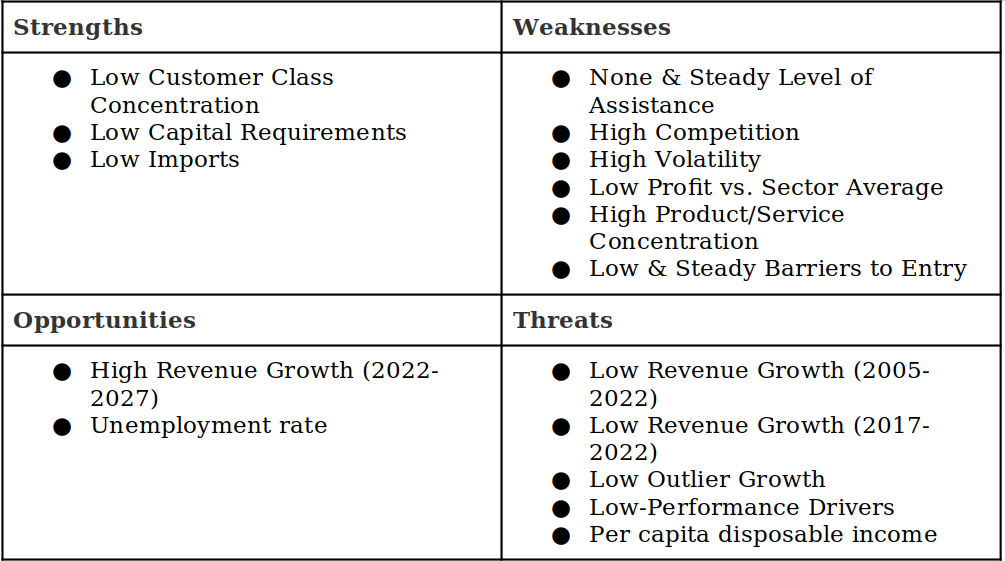 Hair Salons SWOT Source: IBISWorld
Industry Performance: What is The Outlook for the Hair Salon Industry?
How Big is the Hair Salon Industry in Canada?
Hair salon per capita refers to the number of hair salons in a given area divided by the population of that area. This metric is often used to measure the saturation of the hair salon market in a particular region.
A high hair salon per capita ratio may indicate a highly competitive market, while a low ratio may suggest that there is room for growth in the market.
The hair salon per capita can be useful in determining the potential demand for hair salon services in a given area and help entrepreneurs make informed decisions about opening new hair salons.
It should be noted that this metric is just one of many factors that should be considered when analyzing the market for hair salon services. Other factors such as consumer spending, economic trends, and local regulations, can also impact the success of a hair salon business.
Per Capita, Disposable Income
Industry revenue is determined by expenditure on discretionary purchases, such as hair treatments and products.
Consumers are more likely to visit a hair salon when per capita disposable income rises, thereby increasing industry revenue.
Per capita disposable income is expected to decrease in 2022, representing a potential threat to the industry.
Unemployment Rate
The unemployment rate is inversely related to industry products and services demand. When unemployment increases, clients are less likely to indulge in higher-value salon services due to decreased disposable income and a greater inclination to save.
The national unemployment rate is expected to decrease in 2022, representing a potential opportunity for industry operators.
External Competition for the Hair & Nail Salons Industry
The industry contends with external competition from drug stores, beauty and hair product retailers, and spas. Drug stores and beauty and hair product retailers provide at-home products for coloring and treating hair.
Spas also offer facials, which are provided by this industry. When demand for these stores increases, this industry encounters lower demand for salon services. External competition is expected to increase in 2022.
A Number of Adults Aged 20 to 64
Within this age group, women, particularly, are the largest source of demand for industry services.
An expansion in the size and income of this group, and subsequently its share of females, will typically boost industry revenue.
The number of adults aged 20 to 64 is expected to decrease slightly in 2022.
Current Performance
Demand for price-premium industry services, such as permanent hair texture modification, facials, and massages, grew during the period.
Furthermore, with increasing per capita disposable income levels and rising confidence, consumers have increasingly visited hair salons for discretionary services.
However, the COVID-19 (coronavirus) pandemic and subsequent government-mandated temporary closure of industry establishments resulted in an estimated 25.4% revenue decline in 2020 alone.
Industry revenue has decreased overall at an annualized rate of 3.6% to $4.1 billion over the five years to 2022.
Growth Opportunities: Is the Salon Industry Growing?
Therefore, as per capita disposable income has grown over the past five years, many consumers have indulged in many of the industry's price-premium luxury services without necessarily feeling a pinch in their wallets. As such, many industry operators have expanded the array of services to leverage consumers' increasing discretionary income levels.
Is There a Demand for Hair Salons?
YES
However, in 2020 the unemployment rate spiked, limiting consumers' ability to treat themselves through in-salon hair coloring or tinting.
Due to the declining demand and an increase in operating costs due to the implementation of coronavirus-related safety measures, industry profit margins have fallen over the past five years.
COVID-19's Effects
Profit margins have been somewhat preserved, though, due to rising consumer spending on high-margin products and services. Furthermore, operators who were unable to withstand falling profits and the extended closure of their establishment during the pandemic have exited the industry.
How Many Hair Salons are in Canada?
Nonetheless, over the five years to 2022, the number of industry establishments has increased at an estimated annualized rate of 1.1% to 37,124 locations.
Relatively low barriers to entry have facilitated the rise in industry operators over the past five years. Similarly, industry employment has increased at an annualized rate of 0.4% to 56,748 employees.
What Are the Trends in Salons?
Similar to the blow-dry bar concept, hair-extension bars are making headway. These establishments specialize in U-tip, I-tip, and weft hair extensions, which add length, fullness, color, or a combination of these to enhance the client's natural hair.
Another hairstyling service that has generated consumer interest is a keratin treatment commonly known as the Brazilian Blowout. The hair texture modifier eliminates frizz, curls, or waves from hair, increases shine, and locks in color.
Incomes and Demographics
Rising per capita disposable income is expected to drive consumer spending over the five years to 2027.
Furthermore, with declining unemployment anticipated to continue to boost consumer confidence, industry operators can likely expect increased demand for luxury salon services and merchandise sold at the salon.
In terms of demographics, the number of adults aged 20 to 64 is anticipated to increase at a slow but steady annualized rate of 0.2% over the five years to 2027.
Individuals in this segment spend the most on personal-care items, including hair care and grooming products. In particular, industry operators target women in this age group because they typically outspend men on personal-care products and services.
Products & Markets
Products and Services Segmentation
Haircutting and styling services constitute the largest single service group for this industry at an estimated 55.2% of total revenue in 2022.
Hair coloring and tinting constitute the second-largest service segment in the industry, generating an estimated 20.7% of total revenue in 2022.
The resale of merchandise and cosmetic products is estimated to account for 14.3% of industry revenue in 2022.
Skincare services are expected to account for 4.2% of industry revenue in 2022.
Collectively, other services contributed 5.6% of industry revenue in 2022.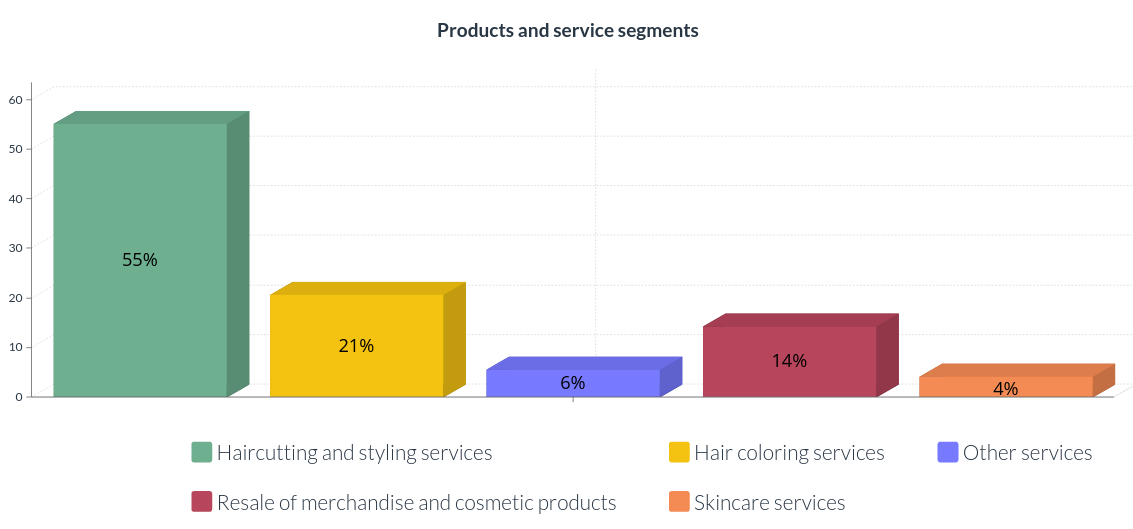 source: IBISWorld
Major Markets
Consumers younger than 25 are the smallest market for industrial establishments, accounting for an estimated 12.2% of total revenue in 2022.
Collectively, consumers aged 25 to 34 account for an estimated 16.9% of industry revenue in 2022.
Consumers, particularly women, aged 35 to 44 make up a significant market for salons.
Individuals aged 45 to 54 are the largest consumer group for industry operators.
Consumers aged 55 to 64 account for an estimated 16.4% of industry revenue in 2022.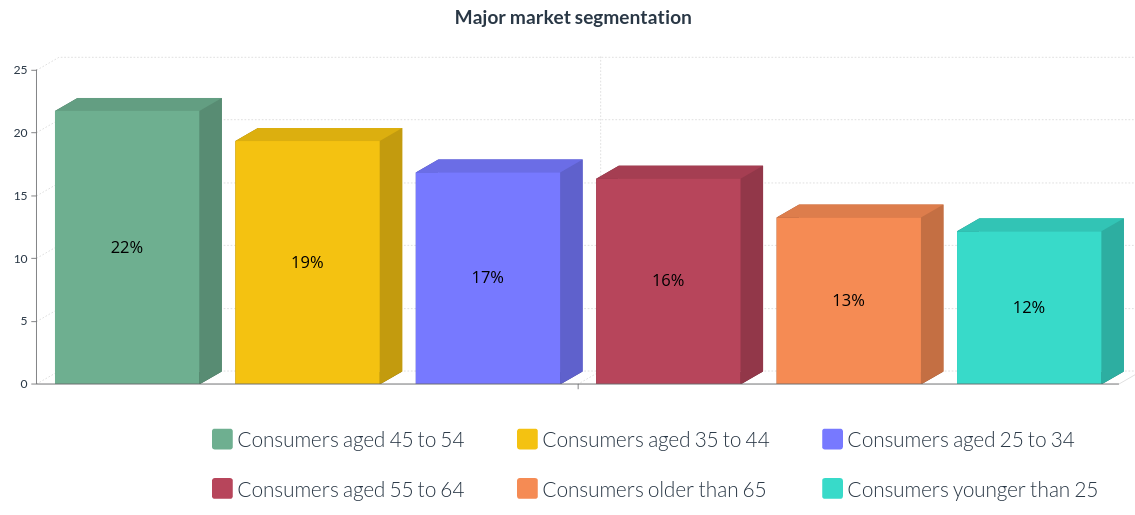 source: IBISWorld
Business Location
Market Share
The Hair Salons industry in Canada has a low market share concentration and there are no companies with more than a 5% market share.
Regions
The provinces with the most Hair Salons businesses:
Ontario, 15,617 businesses.
British Columbia, 6,688 businesses.
Alberta, 6,749 businesses.
Key Success Factors
The most important for this industry are:
Having a loyal customer base:
A satisfied client base encourages repeat customers, who make up a large portion of clients.
Employees must have a license:
Employees must possess the appropriate licenses to officially operate.
Accessibility to consumers:
Salons benefit from walk-in clients and repeat customers, both of which are more likely to go to a convenient and easily accessible location.
Operators that develop niche areas of service and expertise reduce the effects of local price-based competition.
It is critical to have experience and skills in managing and operating all aspects of a small business to achieve financial success.
Maintenance of excellent customer relations:
Operators that strive for positive customer relations will promote customer satisfaction and encourage positive word-of-mouth recommendations.
Cost Structure
How profitable is a Hair Salon Business?
The Hair Salons industry has similar levels of profitability compared with other personal service industries. Profit margins have slightly fallen during the five-year period.
Profit is estimated to account for 8.8% of total revenue in 2022, down from 8.9% in 2017.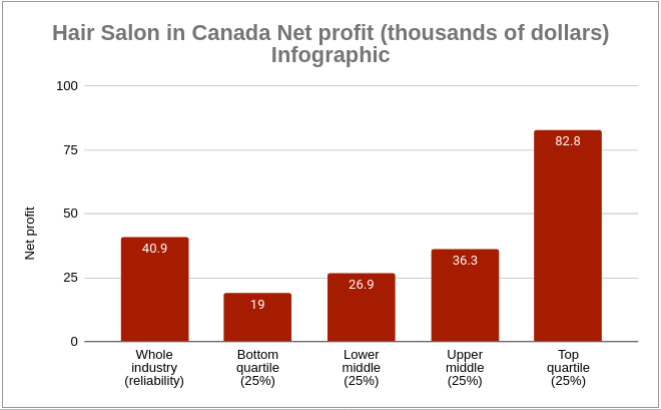 Are Hair Salons Recession Proof?
NO
Profit decline during the period is largely due to the COVID-19 (coronavirus) pandemic-induced temporary closure of industry establishments.
Moreover in 2021, continued capacity limits in many states and increased costs incurred due to the purchase of personal protective equipment, cleaning supplies, and barriers to prevent the spread of the coronavirus further hampered industry profitability.
Are Hair Salons a Good Investment?
YES
Sales of merchandise items and extended arrays of services will likely drive profit growth during the outlook period, with rising service prices at hair salons aiding revenue as well.
Basis of Competition
What is The Failure Rate for Hair Salons?
As new companies enter the industry, competition with existing operators increases. However, over the past five years, industry establishments have fallen at an annualized rate of 1.2%, somewhat mitigating competition within the industry.
How Much do Top Salon Owners Make in Canada?
According to the latest information from the Government of Canada, the majority of hair salons generate Annual revenues of $30,000 - $5,000,000.
During periods of economic downturn, price competition intensifies as customers seek to reduce their discretionary spending. As price competition increases, companies offer more discounts and promotions to maintain demand for higher-margin services.
During most of the current period, the focus on price has waned somewhat, shifting focus to expand service offerings.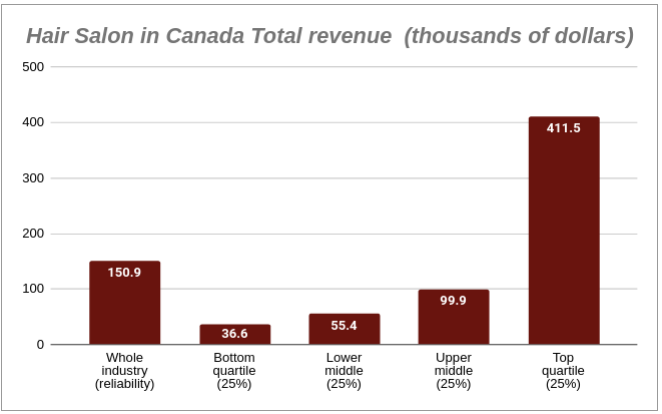 source: Statistics Canada
Why do Salons Fail?
Quality of service is an integral component of competition as it increases the probability of clients returning and promotes positive word-of-mouth reviews, which serve as the main channel for marketing.
Aside from the customer's satisfaction with the results, salons also provide quality service by offering a wide range of hairstyles and additional services.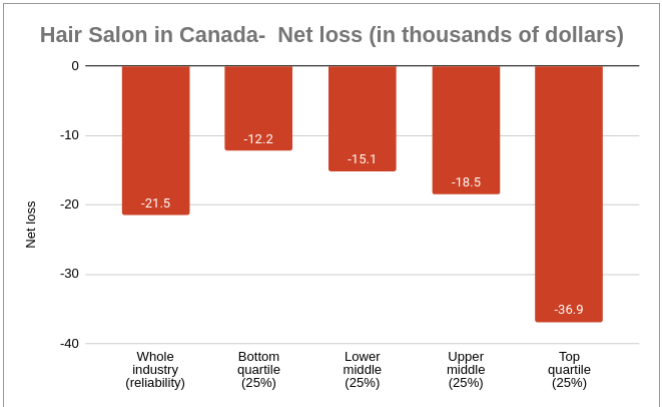 source: Statistics Canada
Barriers to Entry
What Are the Startup Costs for a Salon?
The Hair Salons industry is categorized by low barriers to entry. Start-up costs vary depending on the scale of operations but are relatively low compared with other industries.
As a new business, all that is required to begin operating in this industry is rental space and hair styling equipment, which at its most basic level is just a styling chair, a shampooing center, cutting equipment, and a hair dryer.
How Much Investment is Required to Open a Salon?
To perform higher-margin services, operators require straighteners, curlers, and professional hair products in addition to specialized facial equipment. The average initial capital investment is $40,000, with inventory costs estimated to be between $14,000 to $19,000, depending on the salon.
Barriers to entry are not to be confused with barriers to success. With a high level of competition, new operators are at a disadvantage in regard to a client base. To succeed, new entrants have to capitalize on their location and find an optimal target group.
This generally requires that companies locate themselves near high-traffic locations to generate walk-in appointments. Once a client is serviced, new entrants must then focus on acquiring their patronage to prevent other companies from poaching future revenue.
Operating Conditions
Capital Intensity: What is the largest expense in a salon?
Hair salon capital intensity refers to the level of investment in physical and financial capital relative to the amount of labor required to operate a hair salon business. It measures the proportion of capital to labor used in the production process.
A high capital intensity in a hair salon business might indicate the presence of expensive equipment, technology, and other fixed assets, while a low capital intensity might suggest that the salon relies more on human labor and less on capital investment.
Wages
As is typical of the broader service sector, the Hair Salons industry is subject to a low level of capital intensity. Hair salons are highly reliant on labor to perform industry services.
Given the customization of each customer's hair treatment needs and the relatively low cost of hiring hairdressers, there are few opportunities and little need for increased industry mechanization.
Equipment
As a result, capital investments in this industry are limited to purchases of equipment such as dryer chairs, shampoo chairs, shampoo bowls, hair dryers, razors, scissors, and other tools and equipment used in hair cutting, styling, and coloring.
In addition, some hair salons may make significant investments in their establishment's appearance, as this factor can attract the business of larger numbers of walk-in clients.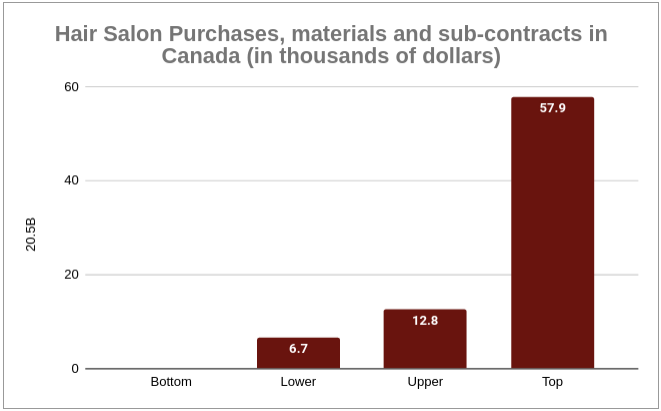 source: Statistics Canada
The Industry has not Been Disrupted by Technological Change Because the Nature of Industry Services is Highly Labor Intensive and Requires Clients on-site.
While new payment apps have enabled clients to pay for services using numerous formats in addition to traditional cash and credit, these changes do not have the potential to change the nature of industry services.
The Hair Salons industry is undergoing a medium level of technological and operational change.
The level of technology change is Medium
Revenue Volatility
The level of volatility is High
The Hair Salons industry historically was subject to a relatively low level of revenue volatility.
Demand for expensive hair styling, coloring, and treatment services is highly dependent on levels of per capita disposable income and the unemployment rate.
Given the discretionary nature of spending on many hair salon services, consumers tend to decrease the frequency of their visits to industry establishments and purchase fewer expensive hair treatment services when incomes are low and unemployment levels are high.
In addition, under such circumstances, many consumers may opt to purchase at-home hair dye and hair treatment products from drugstores instead of visiting a hair salon to meet their hair treatment needs.
Conclusion
In order to build a profitable hair salon or barbering business, it is important to understand the current state of the industry as well as popular trends.
The information and statistics in this post provide valuable insights that can help you create a sound business plan. With the right planning and execution, you can launch a successful salon business that meets the needs of your target market.