Hair salons
7 Timeless Short Hairstyles for Black Women Who Love Afro Music [2023]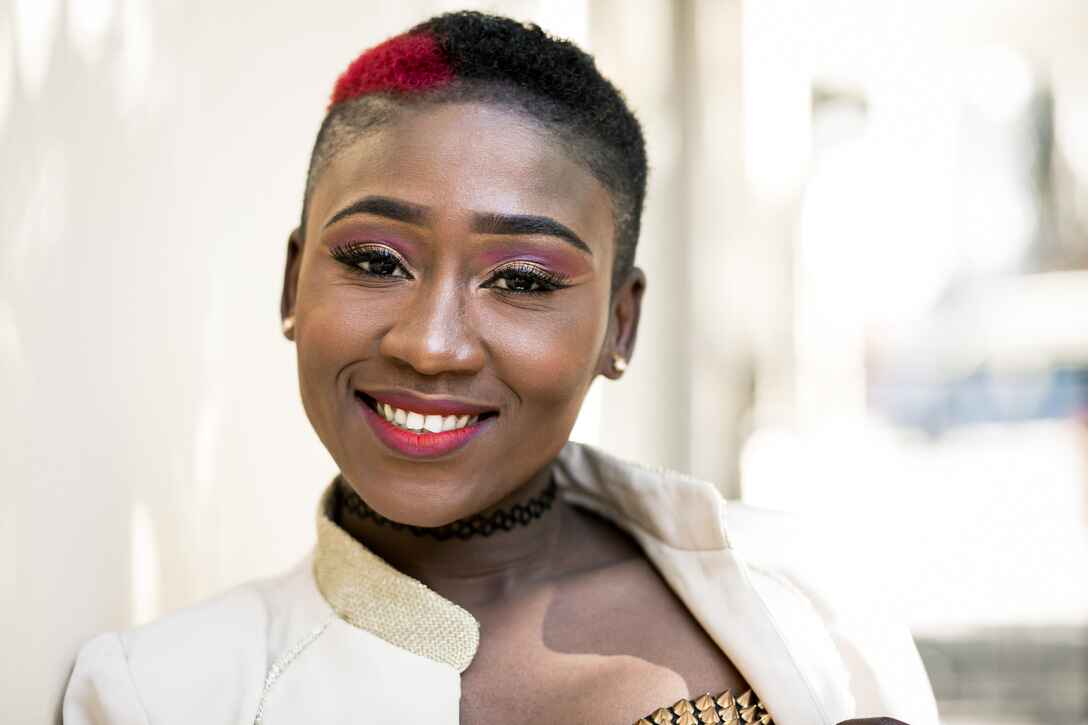 Maintaining long hair can be a lot of work, and over time, you may find yourself contemplating shorter hairstyles. However, there is also the point where you think you may not look so good with a short haircut.
The truth is, just as black never cracks, a black woman never looks less stunning on a short haircut. That is not to say that any type of short haircut would fit you right away.
So, which haircut should you go for? What are the best short haircuts for black women?
In this post, we'll briefly look at some short haircuts any black woman can rock with pride.
Note: The best short haircut for you depends on factors like the length and texture of your hair, the shape of your face, and, ultimately, your personal style. Your stylist can help you pick out the best fit for you.
Pixie Cut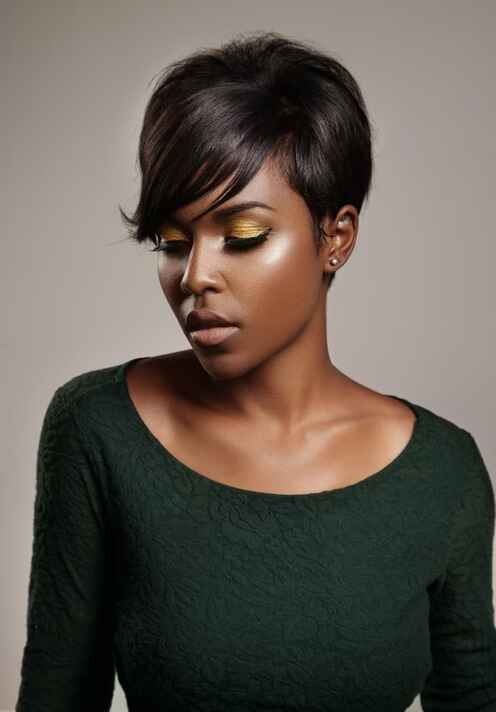 Image: Pinterest
There are many variants of crop cuts, but pixie cuts make it to the top as one of the variants of short crop cuts that easily fit black women.
With a pixie cut, your hairstylist would have to crop your hair in layers, thus creating an effect that appears slightly tousled. Pixie cut appears to be one of the favourite hairstyles of black female celebrities.
It is not unusual to see celebrities like Gabrielle Union, Jodie Turner-Smith, Viola Davis, and other black celebrities rocking a pixie cut.
Just as pixie cuts are low and beautiful, they're also low maintenance. More importantly, pixie cuts are generally suitable for any face shape.
And if you're one for hair dyes, you would also find that pixie cuts blend easily with various types of hair colours or hair dyes.
Fade Cut
If you want to keep things even simpler, then a fade cut may be just right for you. For a very long time, men owned fades like the one elixir of haircuts that is specially reserved for women.
But recently, women started rocking fade cuts while throwing some pizzazz into it. The results were stunning, and it was only a matter of time before fade cuts became a rave among black women across the globe, from Africa to the Americas.
A typical fade cut involves a tightly tapered cut that gradually fades into the scalp by the sides and back. Black women generally prefer fades over good ol' low cuts.
You can rock a fade cut with your natural hair colour as-is, or you can spice things up with hair dyes of your choice, preferably light gold, light blond, light orange, or any other colour you choose. A fade cut also allows you to try various freestyle designs at the tapered sides and back.
Tapered Cut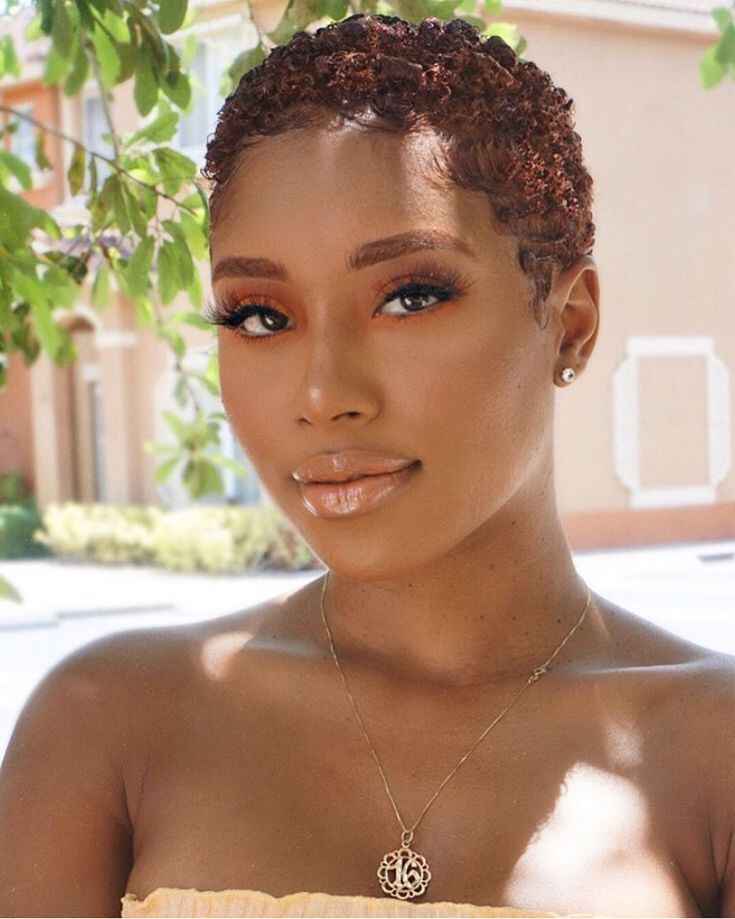 Image: Byrdie.com
Tapered cuts are similar to fade cuts. The defining difference between both types of short haircuts for black women is that tapers are longer at the top, with the taper only being obvious at the sides and towards the neckline. Depending on the look you want, the top hair could be up to 4 inches long.
Tapered cuts are a superb choice for black women, as they effortlessly accent your looks even if you have curly hair.
These haircuts are usually easy to maintain and won't mind a regular wash. However, if you have a special request, such as a need to grow back your edges, you'll need to discuss it with your stylist.
Afro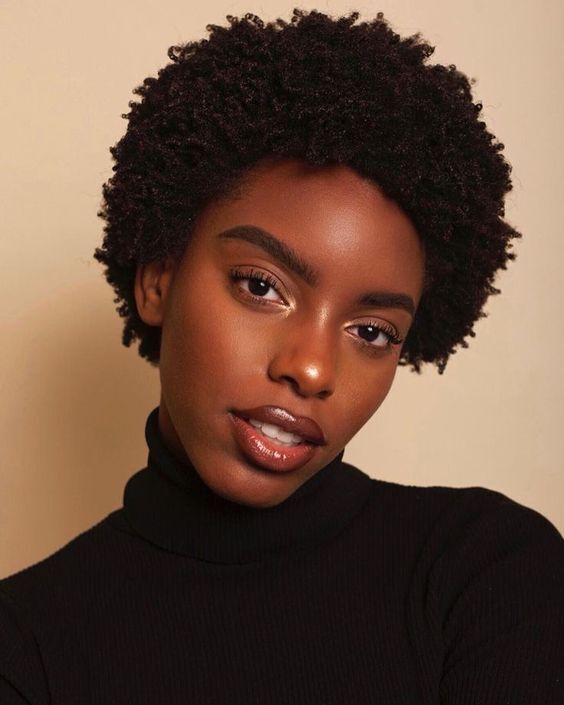 Image: Pinterest
This timeless classic never goes out of style, and it's a great way to rock your natural hair. The afro is your go-to if you fancy a head full of hair that's still short enough to maintain easily; all you need to do is wash it, apply hair cream, then comb or brush, and you're ready to go. It's a bold and beautiful look that remains very popular among black women.
More than just a hairstyle, the afro is a powerful symbol of black identity that pays homage to your roots; a powerful way to embrace your natural beauty and own your looks. It was a prominent feature of the civil rights movement and iconic pop stars.
Mohawk
Image: Pinterest
If you want to try a bold and edgy haircut, go for the mohawk. The hairstyle gets its name from the Mohawk Native American tribe. It is a simple yet stylish look; the stylist will shave the sides of your head and leave a narrow strip of hair running down the center.
You can choose to have a narrow or wide strip of hair, depending on your preference. You can choose to shave the sides completely or crop them. You can also experiment with different lengths, colours, or textures.
Waves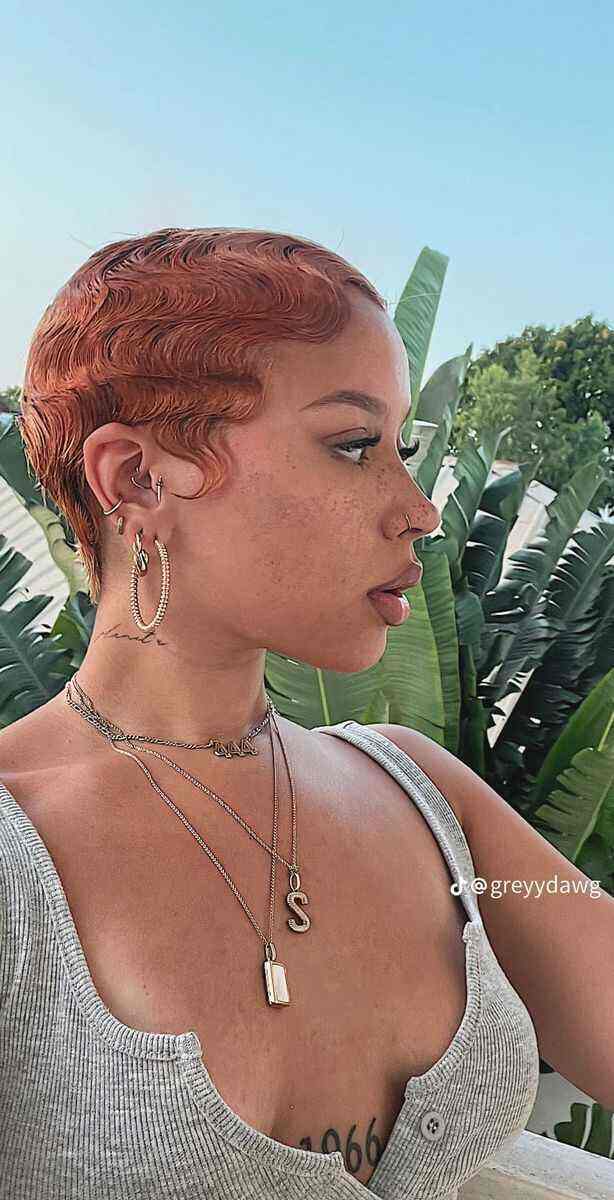 Image: Pinterest
Turn heads and make waves everywhere you go with this signature stunner. Short hair never looked better than when styled into eye-catching waves.
The best part is that there are waves for every type of short hair length and texture.
Close-Cropped Colored Hair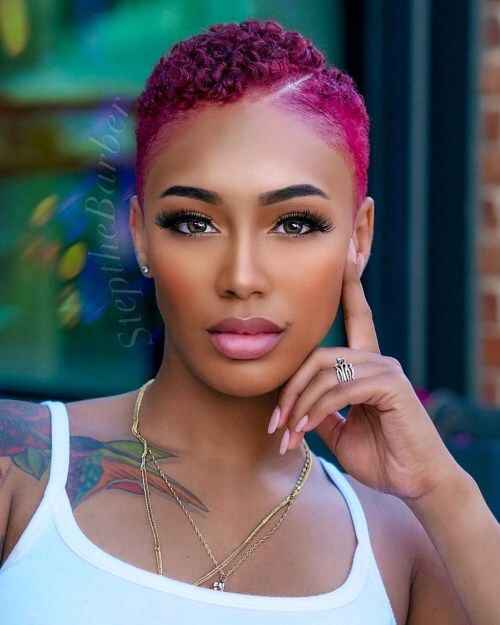 Image: Pinterest
When it comes to short haircuts for black women, it doesn't get simpler than a close crop—the very picture of understated elegance. Compared to braids, a close crop haircut is a simpler and low-maintenance hairstyle for black women.
It also gets top marks for ease of maintenance without compromising style.
You could wear your close-cropped hair in its natural colour, but if you're looking for that extra bit of dazzle, you can experiment with different colours. A professional stylist can help you pick the right colours to go with your complexion and other physical features.