Hair salons
Kid-Friendly Haircuts: How to Choose the Right Salon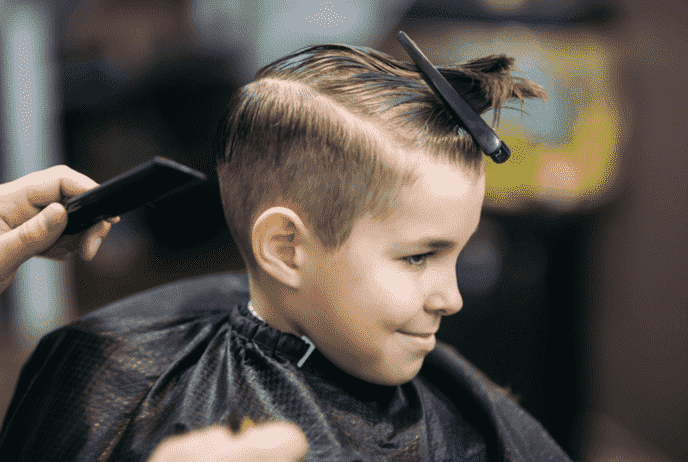 If you've ever been to a barbershop with kids in tow, then you know how challenging it can be to find the perfect haircut for your little one.
It can be hard to pick out the right style, color and length when surrounded by unfamiliar equipment and different salon principles. Luckily, there are more kid-friendly options available today than ever before!
From determining their hair texture and body shape, to considering which product lines might suit them best - this guide will help you make an informed decision about choosing the perfect salon for your child's next haircut!
Why Kid's Hair Salons?
Safety First
As parents, we want to make sure our children are always safe while they're having a haircut or treatment.
It's comforting to know that experienced, properly trained staff will be looking after our kids in a kid-friendly salon that is equipped with the right tools and materials. A stylist who knows how to successfully use all safety measures to ensure our kids' utmost safety is paramount for us as parents.
From protective equipment such as face shields and gloves, to the most efficient scissors and clippers available on the market, these resources come together to keep everyone involved in the process of giving our children a new look safe from harm.
The importance of safety at a children's hair salon is something we shouldn't take for granted – it could make all the difference.
Experience Matter
When it comes to getting a great haircut for your child, experience is key.
Not only do experienced stylists have the skills and techniques necessary for providing an ideal cut, but they also understand the patience and attention necessary for a pleasant experience.
Working with children is completely different than working with adults – young minds can be easily distracted and intimidated, whereas the right salon environment can help them stay focused and comfortable while providing their haircut.
Depending on the salon, you may also find nail care, waxing, and makeup application services. Many kid's hair salons feature vibrant decor, cartoon characters or superheroes on the walls, and upbeat music to help make the experience more enjoyable.
What to Expect From Children's Hair Salons?
Now that you know what a kid's hair salon is, here is what you can expect from kid's hair salons:
Quality Service
Most kid's hair salons employ experienced professionals who specialize in cutting and styling children's hair. They understand that a child may be uncomfortable with the process, so they take extra care to ensure a pleasant experience.
Customization
Many salons offer custom haircuts tailored to your child's style and preferences. They can also provide advice to ensure your child gets the best results.
Fun Atmosphere
Kid's hair salons strive to make the experience enjoyable for children, with vibrant decor and upbeat music playing in the background. They may even feature cartoon characters or superheroes on the walls to help keep children engaged throughout the process.
Products
Most kid's hair salons sell a range of products specifically designed for children's hair. These include shampoos, conditioners, detanglers, and other styling and finishing products. This makes it easy to maintain your child's haircut between appointments.
How to Choose the Right Salon?
When choosing a kid's hair salon, it's important to do your research. Here are a few tips to help you find the right salon for your child:
1. Reviews: An excellent way to do this is by checking out online reviews from reputable sources and asking friends or family for recommendations. This can help you get information about the quality of services, pricing, staff expertise and more at different salons. Additionally, looking at before-and-after photos of past customers can give you insight into the salon's skill level.
2. Location: Choose a hair salon conveniently from your home or places you often visit with your child.
3. Cost: Most kid's hair salons offer reasonable prices for services and products, but it's still important to compare prices before making a decision.
4. Appointments: Ask if the salon offers appointments so that you can plan. This can make a huge difference in making the experience stress-free for you and your child.
5. Cleanliness: Pay attention to how clean the salon is and look for signs of hygienic practices, such as fresh towels, disposable capes, and single-use scissors.
By following these tips, you'll be sure to find the perfect kid's hair salon for your child. You can enjoy a pleasant experience and beautiful results with the right salon.
Why Should You Not Take Your Child to a Regular Hair Salon?
Taking your child to a regular hair salon is generally not recommended, as they may not have expertise in cutting and styling children's hair. Furthermore, the atmosphere of a regular hair salon may be inappropriate for younger children.
In contrast, kid's hair salons are specifically designed with children in mind. They employ professionals who understand the unique needs of children and offer a fun, inviting atmosphere.
By taking your child to a kid's hair salon, you can be confident they are receiving quality service from experienced professionals in an environment tailored to their needs.
Conclusion
Kid's hair salons offer a unique experience for children, with experienced professionals, custom haircuts, and a fun atmosphere. When choosing the right kid's hair salon, it is important to research and look for reviews, cost comparisons, and hygienic practices.
Overall, taking your child to a kid's hair salon is the best option to ensure a pleasant experience and beautiful results. We hope this article has helped you understand why a kid's hair salon is the best choice for your child.