Hair salons
3 Black Hair Braiding Businesses to Encourage in Montreal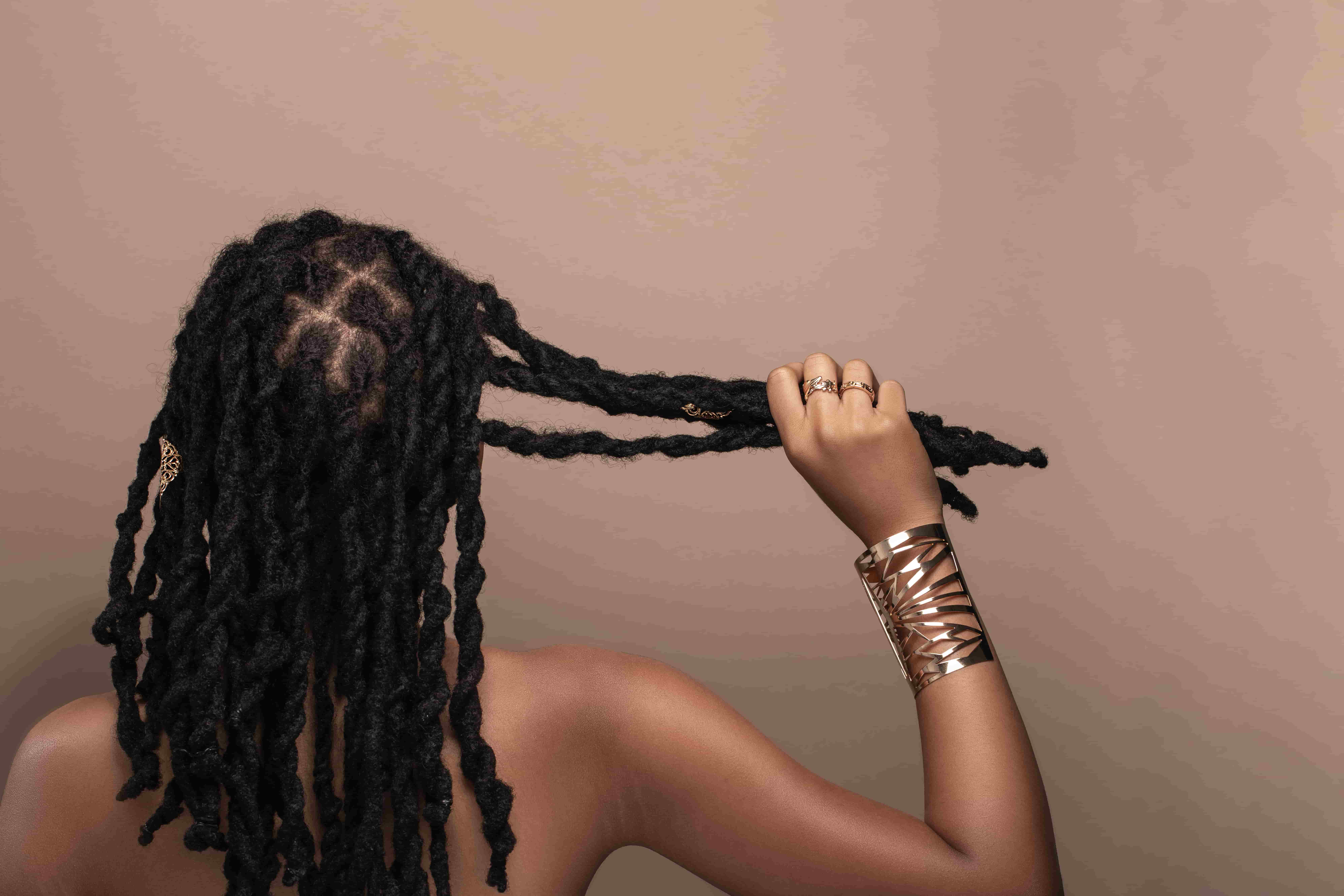 Montreal is home to one of the largest beauty markets in Canada. You can find everything beauty or cosmetic-related in Montreal, but it is not always that you find a professional hairstylist who specializes in braiding.
It is not unusual to find complaints on the internet about poor braiding experiences in the hands of stylists who have not mastered the art of hair braiding. CoverClap can help you avoid that.
Today, we will take a look at three black hairstylists who are making a big difference in Montreal.
1. byBilngwe Beauty Bar
Website: https://bybilngwe.com/
Instagram: braidsbybilngwe
TikTok: @braidsbybilngwe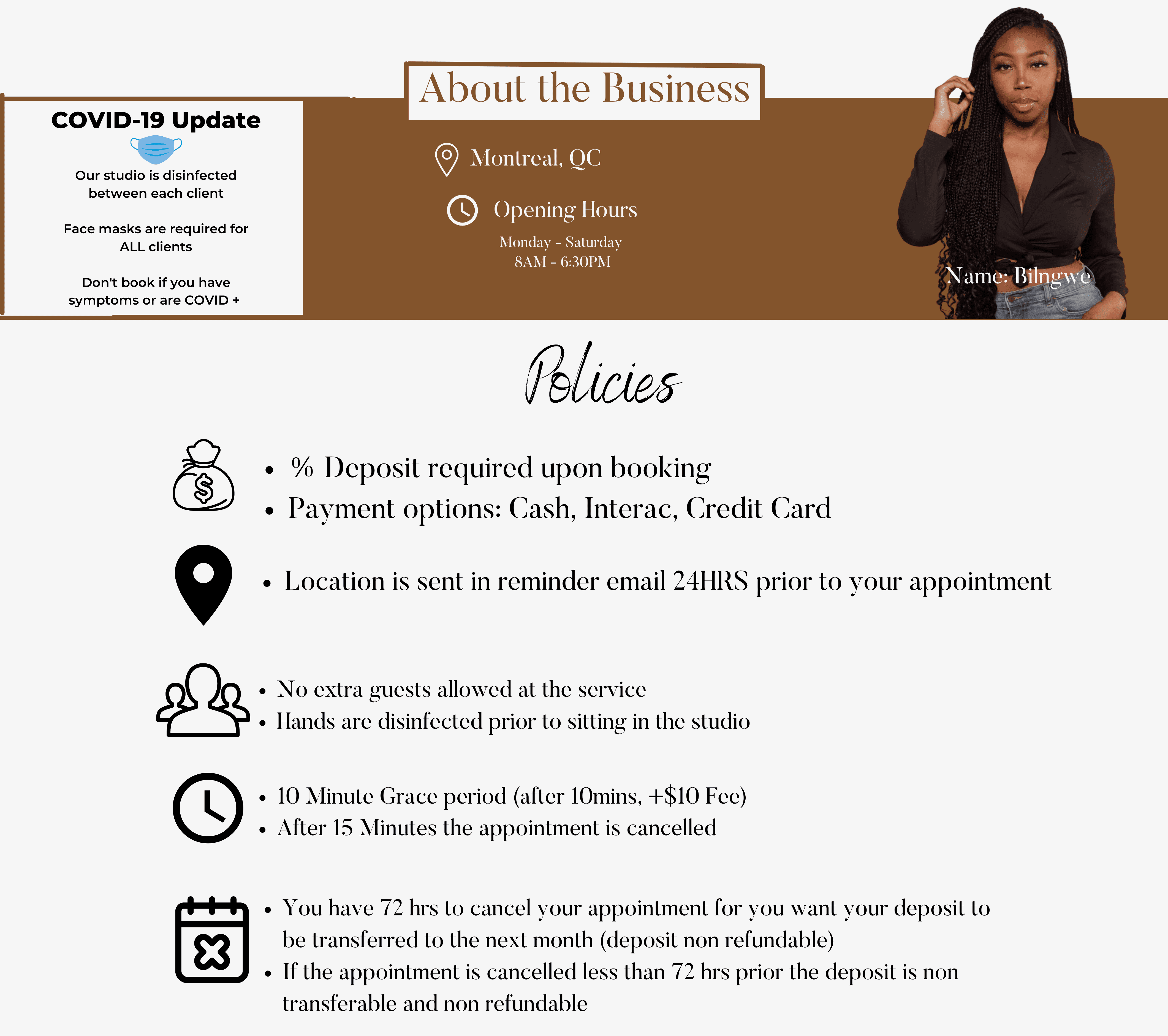 byBilngwe is pretty much a new salon on the block, but that's one bit of information that might be hard to believe when you come across the business for the first time.
Bilngwe Ngwakum, the founder of Braids byBilngwe, had been a long-practicing, exclusive hairstylist in Zimbabwe after learning from the best of the best.
On arriving in Montreal, she found a gap in Montreal's hair braiding market. And she had the necessary hair-braiding expertise and experience to fill that gap.
She founded byBilngwe Beauty Bar in late 2020, with a special focus on braiding, locs, and hair cosmetics and tools. Barely two years later, the salon gets fully booked every month, sometimes by the second week.
Bilngwe uses social media platforms to showcase her works, the various simple and classy styles clients can try out, client reviews, and as well teach other braiders how to handle black hair and braid difficult styles.
Additionally, the salon provides 1-on-1 tutorials for hairstylists who wish to master stitch braids, knotless braids, or soft locs.
The salon has over 26,000 followers on Instagram, 96,000+ followers on TikTok, and over 1 million likes. Clearly, the salon is doing something right.
2. Cheryl Hair Designs
Website : https://www.cherylhairdesigns.com/
Facebook : Cheryl Hair Designs
Instagram : @cherylhairdesigns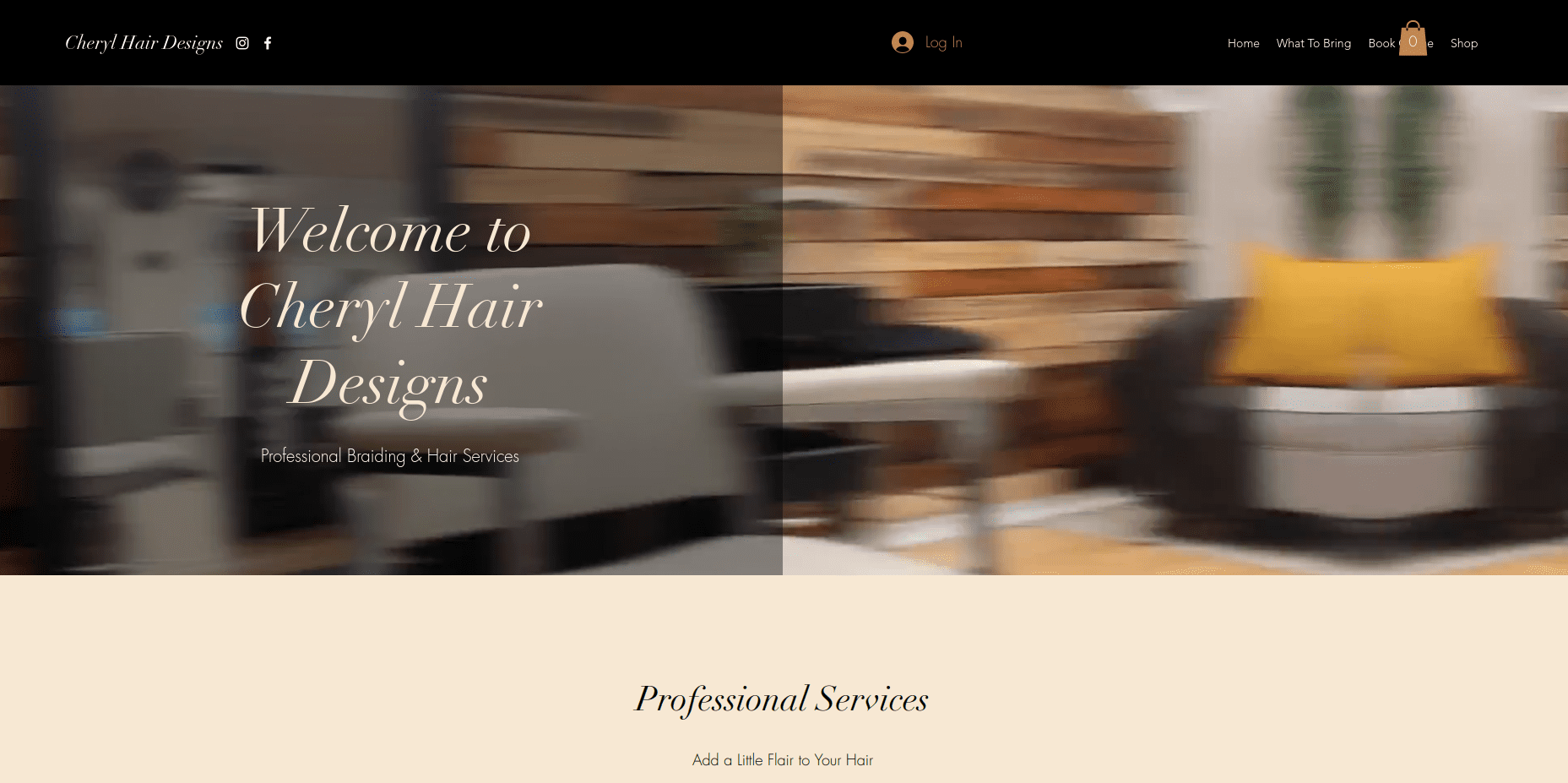 Cheryl Hair Designs is a unisex home-based salon operating from Chateauguay, making it super convenient to serve both Montreal and Quebec City clients.
Cheryl Hoyt, the owner of Cheryl Hair Designs, is a professional hair braider with a long-time working experience in some of the best hair salons in Quebec.
She had a special interest in braiding and excelled at it, so it comes as no surprise that when she started her own hair salon, she focused solely on hair braiding for females, males, and kids.
The salon's specialties include various varieties of box braids, Bohemian, knotless braids, jumbo braids brown goddess braids, natural cornrows, single braids, and coils. Other hair services include detangling, steaming, and wash and blow.
In 2019, the salon significantly increased its customer base and sales by opening a hair salon website using Wix and registering its presence across Instagram and Facebook.
The platforms provide an avenue for new and old customers to browse the salon's catalog, check out their work, and easily book appointments.
At the moment, Cheryl Hair Designs is not offering hair braiding classes.
3. Fabiola Fung Finesse
Website: fabiolafungfinesse.as.me (booking website)
Facebook: Fabiola Fung Finesse
Instagram: @fabiolafungfinesse
Fabiola Fung Finesse is a private hair braider and wig maker in Montreal, well known among customers for consistently high-quality delivery across all products and services.
Fabiola Fung, the owner of Fung Finesse is a self-taught hairstylist with about a decade of experience finetuning the art of wig making and braiding. She has been featured in a number of black communities across the U.S and Canada.
Today, she makes some of the most exquisite wigs in Montreal while also specializing in various varieties of braids, crochet, locs, twists, and weave.
Fabiola Fung Finesse uses social media marketing (mainly Facebook and Instagram) to reach a wider audience across Montreal and beyond.
Even before visiting the salon, new customers can check out the booking website, Facebook page, or Instagram page for the catalog of wigs and hair braiding styles the business provides.
Booking appointments via the booking site is easy, making business very efficient.
The salon does not provide wig-making or hair-braiding tutorials at the moment.
Conclusion
In conclusion, the art of hair braiding has deep roots in Black culture and has been passed down for generations.
It is a beautiful and intricate craft that requires skill, patience, and creativity. By supporting Black hair braiding businesses in Montreal, we not only help to preserve this cultural tradition but also empower Black entrepreneurs and contribute to the diversity and vibrancy of our community.
These three businesses are just a few of the many talented Black hair braiders in Montreal that are deserving of our support. Let's celebrate their artistry and encourage their success.